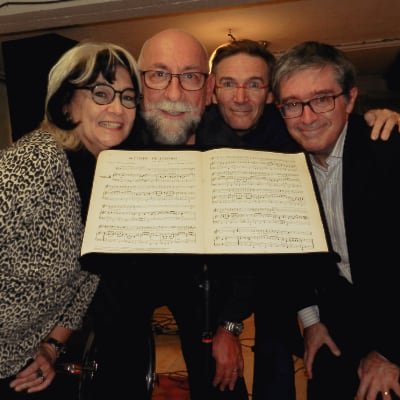 Noi Duri in Pink
03 NOVEMBRE 2021 - Ore 20.00
Mercoledì 3 Novembre Ore 20.00
Osteria RABEZZANA – Torino
"Donne in Jazz "
Via S. Francesco d'Assisi, 23/c - tel. 011/543070 (Cena con prenotazione)
"Noi Duri in Pink"
Marina Tarasconi (voce)
Luciano Panizzolo (pianoforte)
Paolo Cuniberti (contrabbasso)
Domenico Mansueto (batteria)
Voci di donne che hanno cantato la militanza il dolore il riscatto e spesso non ce ne siamo accorti. Reinterpretate nell'orizzonte sonoro del jazz e dintorni. La sezione ritmica è del tribute torinese al torinese Fred Buscaglione NOI DURI 2.0 composta da Domenico Mansueto alla batteria, Luciano Panizzolo al pianoforte e Paolo Cuniberti al basso.
La voce è di Marina Tarasconi, che guida con coraggio ad un percorso di riscoperta dei temi che hanno caratterizzato l'impegno personale ed artistico di molte cantanti del soul, del pop e del rock, talora rimasto nell'ombra del più facile successo del prodotto musicale, L'intuizione nasce dalla scoperta dello spessore sociale dei testi che Giorgio Chiosso ha scritto per Fred Buscaglione, nascondendo nello swing scanzonato e virtuosistico il racconto dell'Italia del dopoguerra.
Con lo stesso metodo, NOI DURI in PINK prova a rileggere i successi delle grandi voci femminili del soul, del rock e del pop. Stupisce Tori Amos raccontando l'infibulazione delle donne africane. Si riscopre la Nina Simone, bambina prodigio, cantante, pianista di classico e jazz, soprattutto come attivista dei diritti civili dei neri e delle donne. Si inciampa nell'impegno di Debbie Harris, icona sexy del pop anni '80, per la non discriminazione di genere e per l'ambiente. Si ascolta lo stupro di un bambino nei successi di Susanne Vega. Si realizza l'esperienza di una bambina avviata al bordello nella celeberrima the House of the Rising Sun. E si continua attraverso Janis Joplin, Joan Baez, Patty Smith, Des'ree, Amy Winehouse, Sheryl Crow, Annie Lennox, Pat Benatar nel tentativo di aggiungere una semplice suggestione di senso al piacere di riconoscere grandi successi che tutti abbiamo nell'orecchio tramite l'esecuzione semplice, libera, improvvisata di un trio swing.
Si ricorda che per tutti i concerti è necessario essere muniti di Green Pass (o tampone eseguito entro le 48 ore precedenti all'evento)